"There can be no keener revelation of a society's soul
than the way in which it treats its children" 
Nelson Mandela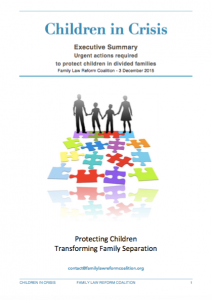 "For a child, few crises are bigger than the loss of a loving parent; this is a major childhood trauma – especially when linked to family separation and years-long court proceedings – that causes immense personal suffering, increased lifetime risks of physical & mental illness, and even suicide."
So begins the Family Law Reform Coalition's policy paper "Children in Crisis" presented to Senators and MPs at Parliament House in Canberra at the start of December 2015.
Yet, today, tens of thousands of Australian children are being allowed, or wrongly forced, to experience such major trauma – and to grow up without one of their parents and other loving family members, often in a psychologically abusive environment – as a direct result of the actions (or inaction) of our adversarial, family court system. And thousands more are left in physically abusive environments by a system that does not have the expertise to make the life-changing decisions that it makes each and every week.
These are just some of many, profound problems with Australia's family courts today – some of the many reasons why they are not fit for the purpose of looking after "the best interests" of our children.
We are calling upon the Australian Government to undertake urgent, major reform to the family law system and we are asking everyone to play a part in helping make this a reality – #ForKidsSake.